Although I was born in 1968, the real story begins somewhere in the 1920s.
A recently-married couple spend the summer touring across post-war Germany on a motorcycle, stopping en route to take in breathtaking vistas of the mountainous Eifel region and the beautiful city of Koblenz, where the Rhine and Moselle converge.
This photo of them both, that memorably captures their carefree journey, is still able to evoke the distinctive smell of the bike mingling with the tough, almost tangible leather from their suits and baggage.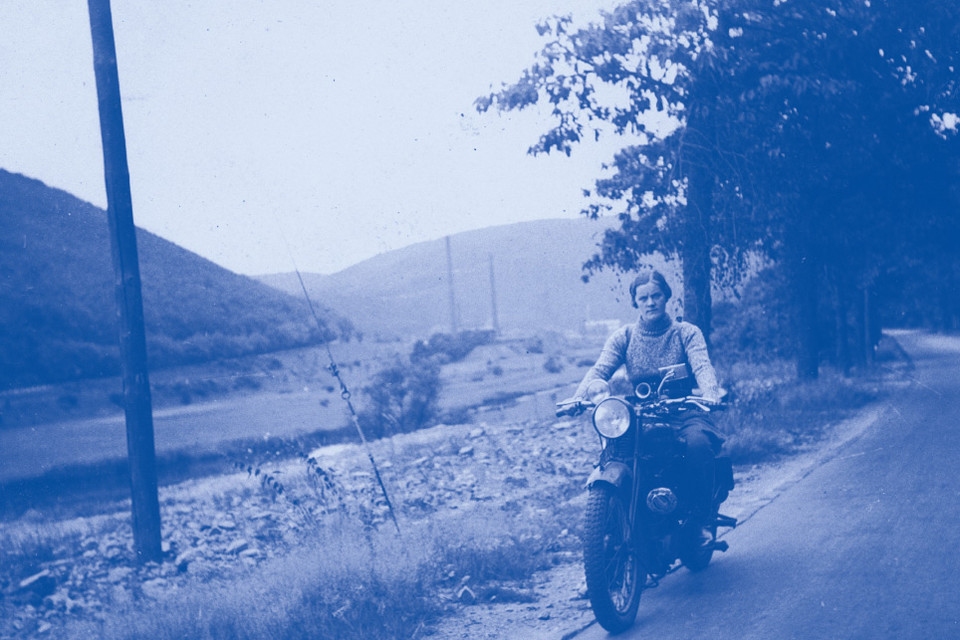 This couple was my grandmother, Elizabeth Santegoets, and my grandfather, Louis de Graaf. Both had an impeccable attention to detail and immense respect for craftsmanship. In fact, my grandmother even fashioned her own bags and accessories from leather.
It's perhaps then no surprise that my love for leather accessories started at an early age. And although my grandmother died in 2002, she still remains my source of inspiration to this day.
John van Dorst
Founder/Designer
The Man
Wallets, bags, diaries and a whole mélange of boxes and stationery have always fascinated me. Saturday visits to my grandparents would be spent clearing out cabinets and reorganising cupboards. And I can still vividly recall – at the age of five or six – the feel of the rich, tactile materials.
Attention to detail became a part of my childhood – and will always be a part of my life. I'm captivated by the meticulous craftsmanship that's infused into every stitch of every hand-made product. And the immense skill of leather artisans working in small ateliers, using traditional tools combined with centuries-old techniques to make each bag utterly unique and beautiful in its signature imperfections.
All this is my passion. A passion that has been reignited after years spent travelling all over the world, garnering a wealth of collector's items. Inspired by these travels and my love of leather, I decided to make my own bags and accessories, borne from a personal quest for the ideal product. Bespoke items hewn from the finest hand-picked leather that fuse form with function, the classic with the contemporary, and draw from the rich heritage of leathercraft.